Courses
Becoming a Force of Nature
Embodied Creativity for Women Who Want to
Lead, Love, & Live From Within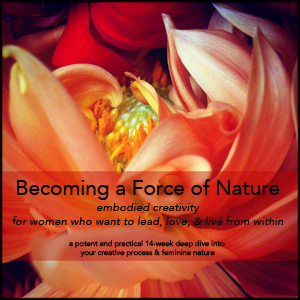 Do you long to step off in the face of the unknown knowing you always have what you need to thrive? 
If so, join me for this potent, provocative, and highly practical 14-week deep dive into your creative process and feminine nature; a mix of Stanford University curriculum and Sacred Feminine wisdom.
Do you hunger to know that who and what you are as a woman, is sacred, worthy of dignity, and powerful beyond measure?
I've been teaching this curriculum for 12 years and have adapted the powerful Stanford course specifically for women to help us balance within the masculine and feminine, so we can be who we are and bring that wholly into the world.
~~~
Belonging
21 Days to Find Your Way Home
Do you yearn for the very real experience of Belonging?
Have you tried to "belong" in the past only to find somehow you lost sight of YOU?
Take a moment to imagine:
you belong, right here, deeply and satisfyingly.
you belong without having to do anything to earn it, that it is not about being pleasing, deserving, or good enough …
you know you are valuable and worthy wherever you are.
you feel welcomed and at home with other women.
belonging is about being intimately and intricately connected to others and to life.
this experience of belonging changes everything about how you see and live life.
Do you yearn for this very real experience of belonging? If so, this journey is for you.
~~~