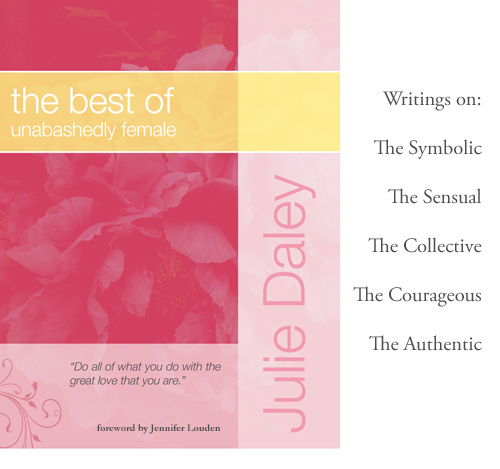 a multimedia collection of
favorite writings
never before published poetry
20 audio recordings
3 follow-up emails to take you on an experiential journey

to discover the realm of your feminine soul 
&




a foreword by

Jennifer Louden
::
"This is the most amazing e-product I've purchased.

"Julie shares her beautiful and insightful writing that speaks to all women, while taking you on a journey to other writings, audios, and research links that add a deep dimension to everything she has included here.

"Sometimes while reading her wisdom, I have to just stop and rest, digesting and internalizing the experience – sometimes for a few minutes, sometimes for a day or so. 
"It's a product that is so rich in content, interaction, and 'mini-journies,' that it might just last a life-time. Thank you, Julie. Fantastic!"

~Deb Droz, Coach www.debdroz.com
Welcome.
This eBook is a collection of my favorite poetry and writings, and audio recordings. Each piece, at its core, is an offering to the Feminine nature of Life, to the beauty of the soul, and to the living of the truth within each of us.
This digital journey been created as an offering in the tradition of storytelling. It's an experience of the rich soil of the soul, soil that waits for our attention, our nourishment, and our giving ourselves over to its beauty.

::
For many years, I've worked closely with women to awaken them to the beauty, sensuality and love for all of life that is an intrinsic part of a woman's nature.
Many women feel disconnected and distanced from their female nature.
My clients have  shared with me how disconnected they are from the direct knowing of the organic aspects of being a woman: a natural inner beauty, rich sensuality, vulnerability, receptivity, and a reverence and love for life itself –these very natural, tangible experiences of being a woman.
This disconnection has caused them pain, grief and shame.
It causes a distancing from the heart and belly, from the source of joy and creativity, and from life itself. The greatest pain is this – to not be living a rich, sumptuous experience of life.
::
If you answer yes to even a few of these statements, I feel this eBook will speak to you in ways you may find surprising, yet will make total sense.
You are not alone in your feelings about your womanhood.
I do the work I do, and I've created this Collection, because these questions, and living into the answers, have been an integral part of my life. Truth be told, I'm excited, and nervous, to be sharing this. When we share parts of ourselves that are real and deep and rich, we can feel very vulnerable; yet, vulnerability is a beautiful aspect of the feminine, and I've found it is an alive and powerful place from which to live and create.
How do you know if these works will feed and nourish your soul?
Do you hear a voice inside, a strong, loud voice that you can no longer ignore?
Do you long to know you are enough, perhaps even sacred?
Have you ever wondered what the Sacred Feminine is?
Do you feel resistance or discomfort when hearing about the Sacred Feminine?
Do you know there is something about your nature that is loving, fierce and completely alive, even if you don't know how or where to find it?
If so, this book is for you.

$25
::
::
I've created this to be an experience – one that will help open you to explore the heart of what makes you an expression of the sacred in human, female form.
Exploring this collection (rather than trying to understand it) will open you to a:
deepening of the feminine within you
clearer vision of what the feminine is for you
sense of connection to the sacred source within you
connection to other women and the unique love that exists between us.
::

While much of this collection is about my personal experience, I've come to see that:
words demand to be written, stories insist on being shared, poetry pulses with creation; we are each artists with an inner world that wholly desires to be created in the outer.
these words, like all women's stories, are meant to be deliciously consumed and savored in moments where you can hold each morsel in your heart and body, allowing them to move you and transform you through your own wise cells.
the mystery requires us to be vulnerable, to receive, to be open to what life has in store for us.
life is always offering what will bring us to remember and reclaim our intrinsic wholeness.
life is meant to be received, with open arms and an open heart.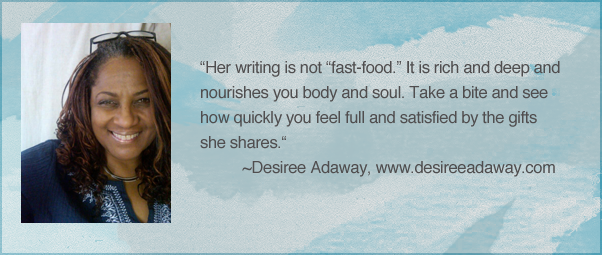 ::
The Best of Unabashedly Female Collection includes:
150 page ebook – In this book, I'm sharing some of my most powerful and loved writings, including posts and poetry never shared before. The writings were intentionally selected to fit into the five themes of the book. These themes are at the heart of waking up to our nature as women. Each piece was selected because it answered a part of the bigger question. Each is a thread that when woven into a whole, provides a rich tapestry from which to launch your own internal quest.
20 mp3 audios – These audios range from poetry read by me to deeper sharings on the writings included. My hope is that sharing my experiences and questions will encourage you to look deeply into your own heart and experience, thereby sparking a quest of your own into the nature of your capacity for creativity, joy and expression as a woman.

This collection is curated into five parts.
Let me share a little about each part with you:[wptabs type ="accordion"] [wptabtitle]The Symbolic[/wptabtitle] [wptabcontent]These essays and recordings all speak to the symbolic realm of life, a realm many of us are not so familiar with. In this very rational, linear culture, the symbolic has been made suspect. But it is in this realm that we begin to discover aspects of self long forgotten. What we really are is much more vast than our rational minds. What we really are speaks in symbols. When we open to the mystery of the symbolic, we begin to access parts of self long forgotten. For example, we use the Internet daily. It's become an integral part of how we communicate. In this way, it is a practical aid. Yet, on a symbolic level, the Internet represents a vast web that connects all of life, a web that can awaken us to our deepest nature, that of Oneness.[/wptabcontent] [wptabtitle]The Sensual[/wptabtitle] [wptabcontent]While this part may seem like it doesn't need much explanation, I want to offer that the sensual is so much more than having sex or being sexy. Humans are sensual creatures. We live in the sensual world. We have five beautiful sense doorways that give us access to the world we live in. And, there's a rich sensuality to life itself. When we discover the very sensual nature of our bodies, and feel life and open to all levels of experience, we begin to really see how mysterious life is, which of course clues us in to the mystery that each of us is. The sensual is pleasure, the pleasure of being fully alive in this human body. Much in our culture has made us leery of enjoying the pleasures of life, yet even something as simple as really feeling each breath of air can be a sensual experience.[/wptabcontent] [wptabtitle]The Collective[/wptabtitle] [wptabcontent]While we are all individuals, there is also a collective consciousness that drives much of what we do, whether we are aware of it or not. When we begin to tap into this collective, we realize that we aren't separate at all. We are one consciousness. This is a powerful realization. At this simplest, we are one awareness. Yes, we exist in separate human bodies, yet what we really are is One. The writings and audios here reflect my experience beginning to know this on a deeper level.[/wptabcontent] [wptabtitle]The Courageous[/wptabtitle] [wptabcontent]It takes courage to be human, to live this vulnerable life, to be who we are. It takes courage to love, to enter into the vulnerability of an open heart, to be fully alive in a body that in so many ways is always a breath away from death. Yet, this courage is accessible. We live it each day. Courage comes from the heart. To open to life, is to open the heart to feeling all of what life offers – not always easy, but always nourishing to the soul.
In this section, I share deeply personal experiences that I know are also very universal.[/wptabcontent]
[wptabtitle]The Authentic[/wptabtitle] [wptabcontent]Authenticity is at the heart of being Unabashedly You…and in my experience, it is the hardest thing for humans to do. It is very, very hard to accept our full humanity. Being human is a vulnerable and humbling experience. Yet, notice that the people you are really drawn to are most likely those who are real. I'm going to be completely honest with you – this has been, and continues to be, one of the hardest things for me to live – my full humanity. In a culture where we are strongly encouraged to present only a slice of our real selves, it can be daunting to allow those other parts out. How beautiful it is to enter into this adventure with others, knowing at the heart of our humanity is where we find connection.[/wptabcontent] [/wptabs]
::
How it Works
Once you purchase the Collection, you'll receive a link to download a PDF. This PDF contains the pages of the book, within which you'll find links to the MP3s. These links take you to a password protected page where you can explore the audios at your own pace. Each one is directly linked to a post or a poem.
::
The Feminine is Mysterious
It isn't rational or reasonable. We come to know it through shared stories, sitting in the unknown, and living questions. The Best of Unabashedly Female is a rich
digital experience

woven from stories, writings, poetry, images, voice and questions of inquiry. This experience does not offer ten steps of this, or five things to do, or any number of sure bets. Instead, it is about listening deeply, opening to the unknown, embracing vulnerability, and daring to be and share the fullness of what you are. I invite you to open, ask and listen to the song of the feminine and the sound of your own voice.
Are you ready to experience a deepening awareness of the sacred feminine within you?

$25
I am committed to your satisfaction with this eBook — and I want to make sure it's a fit for you. If for any reason you're not entirely satisfied with The Best of Unabashedly Female, you are welcome to a 100% money back guarantee within 30 days of the purchase date. Your refund will be issued within one week to your credit card.

$25
Who Am I?
My name is Julie Daley, and I am the founder, writer, teacher and coach at Unabashedly Female.
My own inward journey began in 2001, when it became clear that a 17-year career as a systems analyst and my new Computer Science and Design degree from Stanford University could not distract what wanted to come forth in me. Two deeply traumatic experiences called me to listen to a stirring intuitive voice. As I followed this voice, I left my career and became a certified Creativity in Business teacher, which is a course from Stanford Graduate School of Business, and received coaching certification from The Coaches Training Institute and a PCC credential from the International Coaches Federation (ICF).
I have worked with corporations, including Microsoft, and I teach Creativity and Leadership at Stanford University Continuing Studies. I have coached hundreds of women and men who lost loved ones in 9/11, and 9/11 widows who wanted to learn to love again. I guide individuals in specialized creativity courses across the country, and serve coaching clients around the world.
As my own journey towards discovering the sacred feminine within deepens, I'm adapting all I've experienced and learned to create and offer courses and coaching that help guide women into their own internal landscape, a land where the sacred feminine makes herself known in Her own way.